This recipe is a mashup of memories from sampling street food at the Breakfast Shed, an outdoor food market collective in Port of Spain, Trinidad and the kind help of my friend Akeisha Hayde, who is known as the "Trini Chef" and is director of culinary operations at MIT.
Callaloo refers to a dish of greens — usually dasheen, taro or spinach leaves — on some Caribbean islands. But on other islands and throughout the African diaspora, callaloo is known as the leaves of the amaranth plant, which is in the pigweed family and found in the wild here in New England.
Urban farms such as The Food Project, the Urban Farming Institute and a few large New England farms with migrant laborers have led the way in responding to customers' needs and have cultivated callaloo for sale at local markets. The nutrient-rich plant grows easily during the spring and summer seasons in small kitchen garden plots and can be utilized in a variety of ways. It can be cooked in soups and stews, serve sautéed or even added to smoothies just like kale.
For this stew recipe, I tapped into my frozen stash of callaloo (yes, it freezes well, like spinach or kale). It is usually made with crabs or pig's tail, but in this vegan version, I fortified the dish with extra vegetable bouillon and nutritional yeast for umami flavor.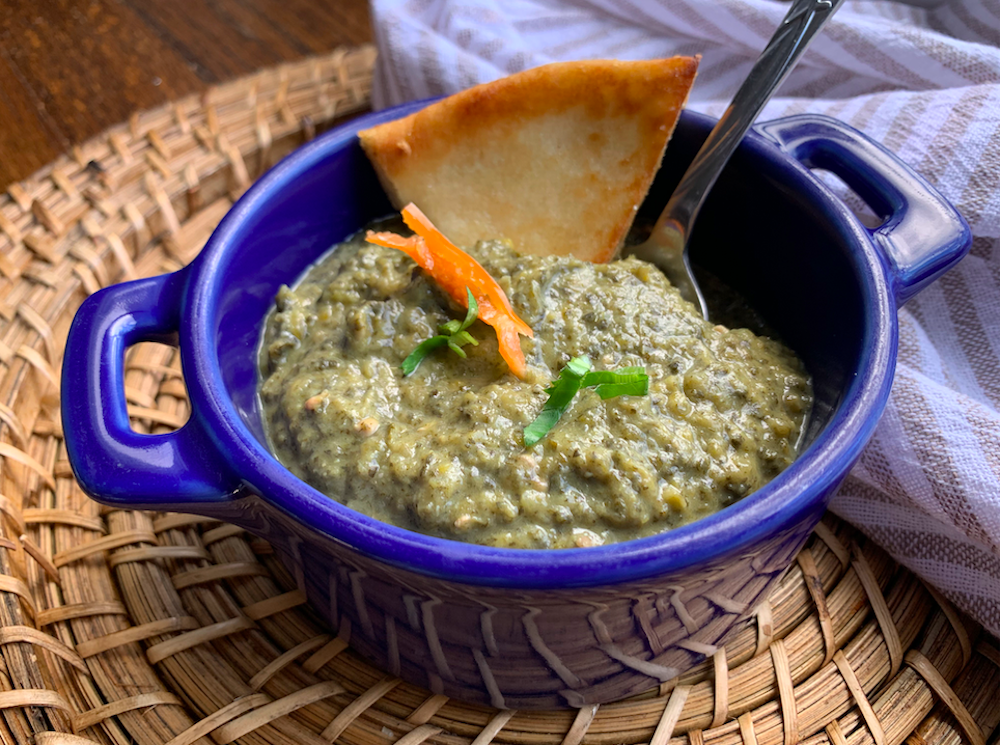 ---
Callaloo Stew
Serves 4-6, accompanied with rice or another side.
INGREDIENTS
3-4 tablespoons of a neutral cooking oil
1 large yellow or white onion, chopped 8-12 large okra (stems removed, thinly sliced)
4 cloves of garlic, crushed or chopped
2-3 Trinidadian pimento pepper
2 cups of pumpkin, peeled and diced (varieties like heirloom pumpkins or kabocha squash)
½ cup of cilantro or culantro/recao, fine chopped
½ bunch thyme
1 bunch callaloo, stripped, seeded and roughly including stems
1 bunch of scallions, diced both green and white parts
1 can unsweetened coconut milk
2-3 teaspoons nutritional yeast flakes
1 cube veggie bouillon or 2 teaspoons stock paste
1 teaspoon salt, more to taste
Fresh-cracked pepper, to taste
1 Scotch bonnet pepper (optional)
STEPS
Wash and prepare all the produce.
Add the oil to a deep dutch oven or heavy-bottomed pan. On medium heat, sauté the onion and garlic until soft, but not browned. Add the pimento peppers and stir to soften as well.
Add the okras. Then add the pumpkin, thyme, and culantro leaves. Stir.
Crumble the bullion and add the callaloo. Stir to coat with the sautéed aromatics. Add the nutritional yeast. The callaloo will be bulky, but will reduce to less than half its volume.
Add the coconut milk and bring to a gentle boil. Taste and add salt and pepper, if desired.
Reduce to a simmer, and add the whole pepper now if you're using it. Close the lid. Reduce your flame to maintain a low simmer. Cook for about 20 minutes to allow the callaloo to break down completely.
Use a handheld immersion blender, swivel stick or transfer to a traditional blender and process until it is smooth. You may add warm stock to adjust the consistency desired. Ideally, your batch will have a smooth, stew-like consistency.
Serve hot with rice, other grains or dipping bread.