This is part of The Post and Courier's Monday Meal Prep series, a monthly column exploring approachable weeknight recipes.
Techniques for time saving in the kitchen are crucial to successful, enjoyable weeknight cooking, and if you have had a lot of cooking practice, you'll probably have an apron pocket full of them. However, you can bet that talented culinarians like Rebecca Lang will teach even more to the busy cook.
From her book "Y'all Come Over," you'll learn how to cook green beans without having to first boil a big pot of water — a very handy technique to have in the kitchen of the South's sultry summers.
Her squash casserole saves time and temperature by employing the simple sheet-pan cooking method we featured last month: Roasting food on a baking sheet instead of standing over a hot stove. As you get into the swing of the possibilities, it's something you'll use more and more. New potatoes, tomatoes, peppers, eggplant and okra are good candidates for this easy form of oven roasting, as, not surprisingly, are stone fruits like peaches and plums.
Lemon-shallot green beans
Green beans are often on Southern menus in the form of heavy casseroles. This simpler preparation brightens the flavors on the table and is a lot faster to make. Using a small amount of water to steam the beans saves the trouble of boiling and draining. To make ahead, cook the beans the day before and finish off in the skillet a few minutes in advance. If using lemon zest as garnish, take it off the lemon before you juice it.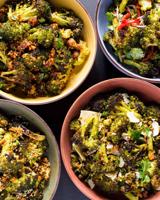 Serves 8
2 pounds fresh haricots verts (tiny French green beans), trimmed, or regular green beans, cut in half lengthwise
⅔ cup water
3 tablespoons olive oil
4 garlic cloves, minced
4 shallots, sliced
¼ cup chopped fresh basil
¼ cup fresh lemon juice
1 teaspoon table salt
¼ teaspoon freshly ground black pepper
Garnishes: strips of lemon zest, fresh basil leaves.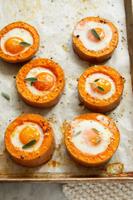 Combine the beans and water in a Dutch oven. Bring to a boil over high heat; cover. Cook for 6 minutes. Uncover and cook until all of the water is evaporated, about 3 more minutes.
Heat the olive oil in a large skillet over medium heat. Cook the garlic and shallots in the hot oil for 2 minutes or until just golden brown; remove from the heat. Stir in the basil, lemon juice, salt and pepper. Add the green beans, and toss to coat. Garnish, if desired.
Squash casserole
If you haven't had the South's most comforting of casseroles, now is your time. Squash casseroles can be dressed up with anything from saltines to french fried onions to homemade breadcrumbs. My go-to recipe is the version from my childhood: A cheesy Southern classic that's covered in Ritz crackers. It would be sinful to skip the crackers and butter on top. You can assemble the casserole in advance and refrigerate for up to 12 hours, then let it stand at room temperature for 30 minutes before baking. Add the crackers just before going into the oven.
Serves 8
3 pounds yellow squash, sliced ​​into ½-inch-thick slices
1 sweet onion, chopped (about 1 cup)
2 tablespoons olive oil
1½ teaspoons table salt, divided
½ teaspoon freshly ground black pepper
4 ounces shredded extra-sharp cheddar cheese (one cup)
2 large eggs, lightly beaten
¼ cup mayonnaise
20 round buttery crackers, such as Ritz, crushed (about ¾ cup)
2 tablespoons unsalted butter, melted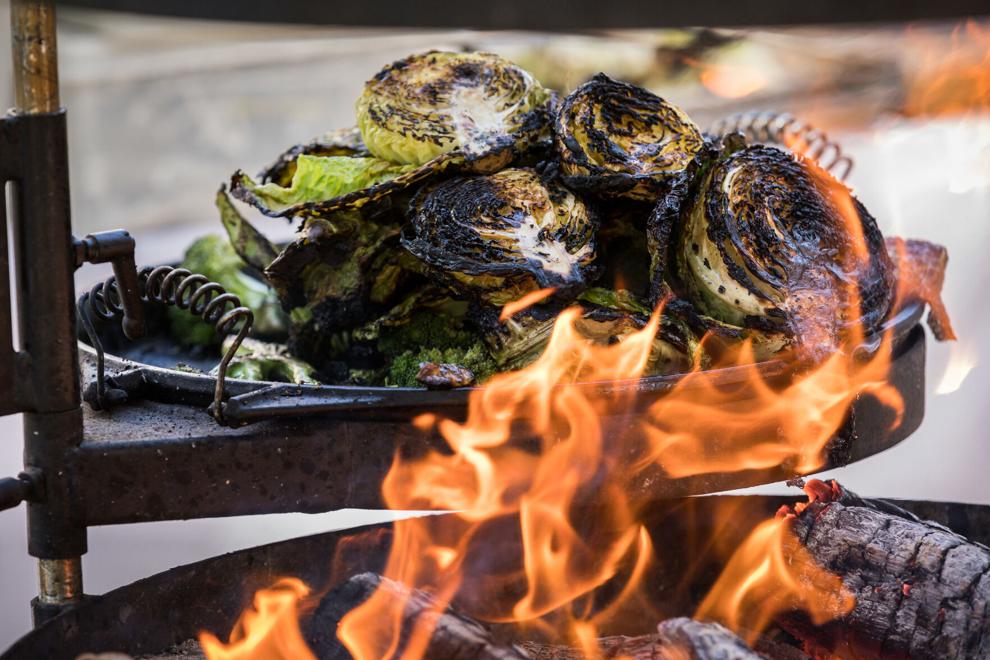 Preheat the oven to 400 degrees Fahrenheit.
Arrange the squash and onion on a rimmed baking sheet. The vegetables will not be in a single layer. Toss with the olive oil and sprinkle with ½ teaspoon of the salt and the pepper. Cook for 35 minutes, or until the squash is tender when pricked with a fork. The squash will not be browned. Set aside and allow to cool slightly.
Lower the oven temperature to 350 degrees. Combine the cheese, egg, mayonnaise and remaining 1 teaspoon of salt in a large mixing bowl. Use a slotted spoon to transfer the squash and onions from the baking sheet into the mixing bowl, discarding any liquid left on the baking sheet. Gentle stir to combine. Spoon the mixture into a lightly greased 11-by-7-inch baking dish.
Stir together the crushed crackers and melted butter; sprinkle them evenly over the top of the casserole. Bake it at 350 degrees for 30 to 35 minutes or until bubbly and golden brown.
©Y'all Come Over: Charming Your Guests with New Recipes, Heirloom Treasures, and True Southern Hospitality by Rebecca Lang, Rizzoli New York, 2021. $45.00. www.rizzoliusa.com.