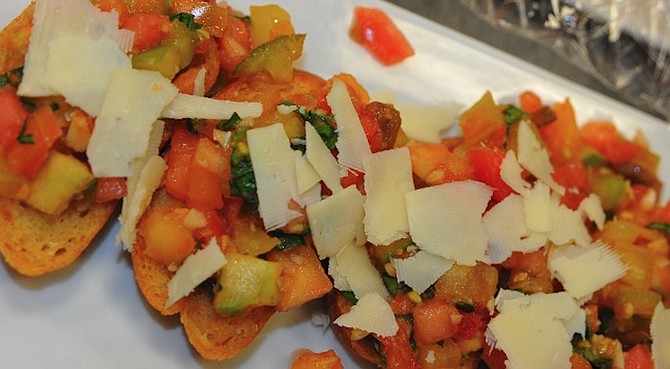 Cynthia Ferris-Bennett's bruschetta recipe.
One of the first fabulous signs that Farmers Market season is upon us is tomatoes!
Tomatoes are considered to be a fruit, yes a fruit … but why? A botanical fruit would have at least one seed and grow from the flower of the plant. With this definition in mind, tomatoes are classified as fruit because they contain seeds and grow from the flower of the tomato plant.
Whether you consider tomatoes a vegetable or a fruit, I believe we can all agree that a fresh vine-ripened tomato from your garden or just picked fresh farm is a culinary memory that you always happily recall.
Bruschetta (pronounced "broo ske ta") is one of the most flavorable and versatile fresh tomato recipe toppings. Traditionally you would serve this tomato topping on a toasted Crostini but it has been known to also top my grilled salmon and get stirred into my favorite fresh fettuccine pasta. Be sure to use a variety of tomatoes for both taste, texture and color.

INGREDIENTS
2 pounds tomatoes (Heirloom, San Marzano, Roma, Kumato, Yellow Pear)
4 ounces fresh basil leaves (stems removed), sliced ​​very thin, chiffonade style
2 fresh cloves of garlic, finely minced
6 tablespoons extra virgin olive oil
Sea salt to taste
Spray oil – preferably EVOO
Baguette – ½-inch slices
Shaved parmesan cheese
Balsamic reduction glaze
Preheat oven to 400 degrees.
Place baguette slices in a single layer, spray with EVOO and sprinkle with Sea Salt. Bake until lightly toasted, approximately 5-10 minutes. Remove from oven and set aside.
Slicing the basil: Stack a few of the basil leaves and roll tightly. Cut thin, round slices, place in mixing bowl. Set aside a few basil strips for topping.
Garlic: Use a garlic press to finely mince garlic cloves. Place in mixing bowl.
Bring a pot of water to boil and blanch the tomatoes just until the skins begin to blister and break open. Please note, it is better to blanch in several batches if you are using various sizes of tomatoes for even blanching. Once the skins have been removed slice open the tomatoes to remove the seeds. Rough chop all tomatoes and place in mixing bowl to cool.
Stir in EVOO and mix all ingredients thoroughly. Let flavors meld for about 30 minutes.
PLATING
Place the toasted crostini on your favorite platter. Give the Bruschetta mixture a final stir. Place a heaping tablespoon of the Bruschetta mixture on top of each Crostini. Once all Crostini have the Bruschetta mixture then sprinkle the shaved parmesan and top all Crostini with a generous Balsamic Glaze drizzle. Sprinkle the remaining Basil Chiffonade and you are ready to serve… Mangia!
The Sierra Chef Farmers Market begins on Wednesday, May 18, and runs every Wednesday through Sept. 18 from 8 am to 1 pm at Heritage Park, 1447 Courthouse St., in Gardnerville. Fresh produce, eggs, bakery items, meats, gourmet pantry, knife sharpening, children's activities, personal care, clever crafty items and so much more. If you are interested in becoming a vendor or if you would like more information on the Sierra Chef Farmer's Market, call Sierra Chef at 775-392-4417 or email Events@SierraChef.com.